In Parsippany, Wayne, and Morristown there is a ton of stuff to do and most of it requires driving to get to.  If you want to take the family down to the shore for the weekend, you need the right vehicle to do it.  Both the 2019 Subaru Ascent and the Honda Pilot have the space for your entire family and all the stuff you need, but no two vehicles are created equally.
At Paul Miller Subaru, we know that you have choices when it comes to shopping for a vehicle, but we want to help you get down to the nitty gritty details to decide which vehicle is best for you.  We will walk you through how these vehicles stack up against each other, thus assisting you in easier decision-making about your new car.
Let's Talk About Space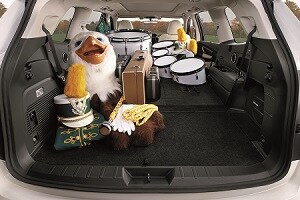 When you're in the market for an SUV, part of the reason is because you need something big enough to haul kids, pets, luggage, and more whenever you go somewhere, so space is important.  While both vehicles offer configurations that allow for seven or eight people, their passenger volumes differ. The Ascent offers 153.9 cubic feet of passenger volume, so even in the third row your passengers will be comfortable, while the Pilot offers 152 cubic feet of space for the passengers.
If it's your week for the school carpool duty, don't worry.  With either of these vehicles, there is plenty of cargo space to stow musical instruments, lacrosse gear, and backpacks galore.  The Pilot offers 16.5 cubic feet of space behind the third row versus the Ascent's 19.6, but this 2019 Subaru also offers built-in floor storage if your cargo cup runneth over.
Convenience Features
No SUV is complete without all the cool features they offer that make travel and family life mesh so well.  Both SUVs are equipped to handle a maximum passenger and cargo load. The Ascent has ultra-wide doors that make both entrance and departure a snap, even if you're trying to coax an infant carrier and a diaper bag out at the same time, while the Pilot has doors that are wide enough to get into and out of comfortably.
When you're road tripping with kids, the sticky mess of spilled apple juice can cause a headache for you and an emotional meltdown for your child.  The Ascent has an impressive amount of cupholders; 19 to be exact, while the Pilot has 16.  An abundance of cupholders is a beautiful thing, as they can prevent spills, hold small toys or extra pacifiers, and provide each child with their own space, so there is less to fight over.
Safe as Houses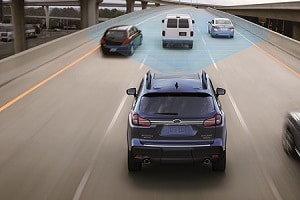 An SUV is meant to carry you and the rest of your family, so safety is one of the more important features most drivers look for.  Standard on all models of the Ascent is EyeSight® Driver Assist Technology which is comparable to Honda Sensing®, however the latter is only available as a standard feature on certain trim levels.  Peace of mind at any trim level is an important bonus.
Backing up in a larger vehicle, especially when there are children bouncing around in the back, can be somewhat difficult, however, with the advent of backup cameras in vehicles, it's gotten a lot easier.  The Ascent offers a 360-degree view of the world around you, so there is no worry about running over Junior's new bike that he can't remember to put away.  The Pilot also offers a backup camera that offers multiple views, but unfortunately, it can't see the whole way around. 
Ascent vs Pilot: Come Meet Your New Family SUV
At Paul Miller Subaru, we know that you have plenty of options when it comes to SUVs.  Both these vehicles offer safety, space, and convenience, but the Ascent can go the extra mile.  When you're ready, contact our team or come check it out in person, and bring the whole brood, because you never know unless you try.  They can join us on your test drive around Parsippany, Wayne, and Morristown.