Have a sugar craving? These three ice cream destinations are here to help! From fresh flavors to rolled ice cream and even a mobile ice cream truck, these shops have it all! Read through to see all the unique and refreshing flavors available at these ice cream locations near Wayne, NJ.
Ice cream tastes better in its purest form. Carmella Ice Cream makes their treats on site with no fillers, so you're getting a pure and delicious natural flavor. Carmella features delicious flavors like Toasted Almond and the ultra-decadent Jake's Treat, a chocolate ice cream stuffed with homemade Rice Crispy Treats.
Carmella has an extensive menu offering soft serve, ice cream cakes, milkshakes, sundaes, and floats in addition to their handcrafted ice cream. To delight a wide variety of customers, they offer non-dairy ice cream options, as well. You can also have your ice cream in a waffle cone that is made to order, so it's nice and warm when served to you.
Located in the Garden State Plaza Mall, the Rolling Cow is a unique ice cream shop offering fresh, natural flavors. Once you choose your flavor, their ice cream artisans will mix and freeze the ice cream in front of you using a cold plate to create a dynamic ice cream experience.
You can either chose from one of their many delicious menu flavors or create your own mixture. They offer classic flavors like S'mores and enticing new taste profiles like Asian Black Sesame topped with dragon fruit, almonds, and honey.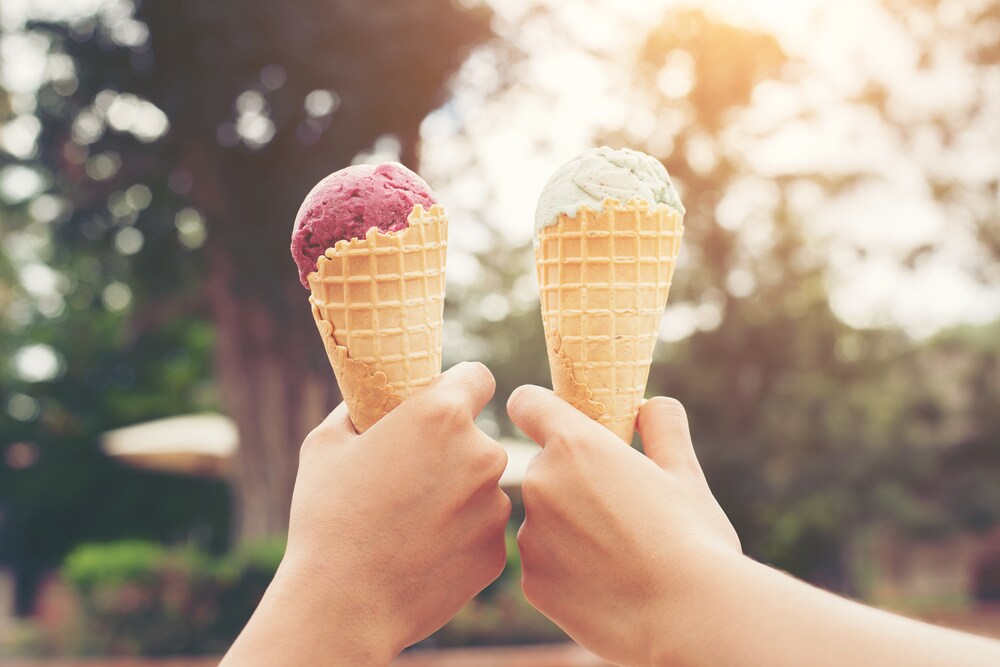 Looking to jazz up your next backyard gathering? Sweet Ice Queen is a vintage food party truck making a trendy and memorable addition to any occasion. Created by Lisa Emeric, Sweet Ice Queen can accommodate crowds of all sizes. So, whether you're planning a birthday party or treating the office after a long week, Sweet Ice Queen can help out.
All their party packages include professional servers and 30 to 45 minutes of service. During that time, you will be treated to such flavors as Unicorn Delight. This sweet blend of vanilla and bubblegum ice cream swirled together with fairy dust and rainbow confetti creates a fun and exciting treat.
I Scream, You Scream, We All Scream for Ice Cream!
By now, you're probably dying to get your hands -and mouths-on these delicious flavors. Stop by The Rolling Cow or Carmella Ice Cream for a sweet pick up or book Sweet Ice Queen's food truck for your next event. Make sure to follow these ice cream destinations on Facebook to stay up to date on any new ice cream flavors as they are created!