When the humidity hangs low over the Jersey City area and you can't make a move without sweating, what better treat could there be than delicious ice cream? Whether it's a dish of soft serve vanilla with rainbow sprinkles, a loaded banana split, or a simple scoop of something smooth and creamy, ice cream soothes the tired and hot beast inside of us all.
Between Jersey City and Denville, there are five ice cream places that go above and beyond when it comes to this sweet, milky treat, so check them out today!
Ample Hills Creamery
Named after a Whitman poem, Ample Hills Creamery has been around since 2011 and is run by Brian and Jackie, two Brooklyn natives who have managed to capture the perfect amount of whimsy in their flavors.
Uniquely, Brian and Jackie also pasteurize their ice cream on-site to create the best playful flavors they can. They also use organic products to deliver the best quality products to their customers. They place a heavy emphasis on the necessity of their team and think ice cream should be playful, thus naming their signature flavors The Munchies, Peppermint Pattie, and Ooey Gooey Butter Cake.
Denville Dairy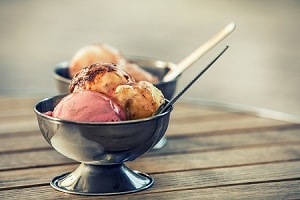 For over half a century, the Fine family of Denville Dairy has been scooping up dishes and cones of the good stuff: Premium hard-packed ice cream made with the highest quality ingredients. Today, at any given time, you can head to Denville Dairy and have your pick of 28 flavors-the Fines have preserved the small parlor feel from years past while advancing their ice cream offerings.
In the summertime, order up a double scoop of a flavor that mixes in the flavors of summer like refreshing watermelon sherbert. Keep the Fines in mind come holiday time too, as delights like egg nog ice cream sandwiches are an absolute hit!
Milk, Sugar, Love
Having grown up in Ocean City, the owner of Milk, Sugar, Love knew that she wanted to open a different kind of ice cream shop when she graduated from pastry school. Catering to an all-new demographic, Emma makes all-organic ice cream, both for your benefit and for the cows creating the milk and cream, as well.
She has a love for traditional flavors like classic chocolate and vanilla bean, as well as some specialty tastes like Lemon Olive Oil, inspired by places she's been or places she'd like to go.
Playa Bowls Denville
Looking for a healthy alternative to your ice cream craving? Try a blended smoothie bowl from Playa Bowls Denville, a vibrant treat for the senses that's chilly, packed with nutrition, and energizing all in one.
Founded by Jersey Shore natives who fell in love with blended smoothie bowls while surfing out in the tropics, Playa Bowls combines the freshest superfoods, fruits, and veggies into an incredibly refreshing ice-cream-like indulgence. Start by choosing a frozen bowl base such as acai, dragon fruit, or banana, then choose a signature bowl. Toppings like chia seeds, fresh fruit, honey, or granola add texture, sweetness, and balance!
Torico Ice Cream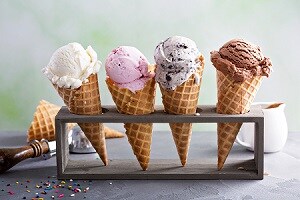 Torico Ice Cream started as a deli but got into the ice cream game when pregnancy cravings demanded tropical ice cream flavors that didn't exist locally. Pura and Peter Berrios bought the shop in 1968 and originally called it Tropical Delight. The name later was changed to Torico, a shortened form of Todo Rico or it's all good.
They cater to the local neighborhood, treating the palates of the Asian, Filipino, and Spanish influenced area with flavors like ube, avocado, and banana. The shop is family-owned and the couple's daughters all help out when the need arises.
We All Scream For Ice Cream
When the heat overwhelms you, and your craving for sweet, creamy treats needs satisfaction, head over to one of these top locations in the Jersey City area!