Heavenly homemade fare that can be savored with your closest pals while sipping an endless cup of coffee or a much-needed mimosa-brunch is the epitome of weekend relaxation. The next time you have a hankering for just-right hash browns or a burger with a fried egg on it, turn to these 3 stellar brunch spots in North Jersey.
Carver's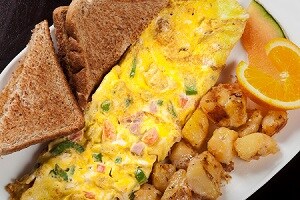 Whether your idea of brunch is a hearty, ooey gooey stack of fluffy French toast or a golden grilled cheese ready to be dipped into homemade tomato soup, Carver's puts comfort on the plate!
For the egg-clined among us, Carver's huge omelet menu is sure to please. Choose from curated specials like the Jersey Omelet that features smoked ham, fresh broccoli, and melted cheddar, or make your own delicious creation. On the lunch side, choose your deli-cacy: chow down on tasty panini style sandwich or a triple decker club. All Carver sandwiches are made with their homemade bread-you can taste the difference.
Follow Carver's today on Facebook!
Hapgoods
Get the cozy small-town feel accompanied by a brunch spot that has indulgent plates down pat at Hapgoods in Mountain Lakes, NJ.
A quick scan of Hapgoods' menu will tell you that your brunch needs are well covered. If you're looking for something outside of your everyday bite, there's many items for the adventurous palate. Go for Shrimp and Grits with a Cajun gravy and spicy chorizo or a California Benedict featuring two perfectly poached eggs on an English muffin enrobed in a buttery shell of Hollandaise sauce.
Feel like drooling? "Like" Hapgoods on Facebook to peruse appetizing snapshots of their brunch plates.
The Original Pancake House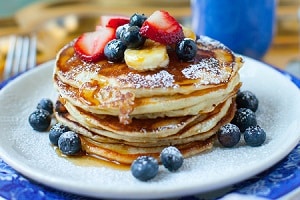 Founded over half a century ago in Portland, Oregon, the Original Pancake House (OPH) brings an international take on a timeless breakfast food favorite. Digging into OPH's flapjacks has earned critical acclaim from coast to coast, and now you can boast a stack on your plate right in North Jersey.
The Original Pancake House isn't just a haven for the pancake passionate, as a wide variety of brunch specialties grace the OPH menu. You've got to try their signature Dutch Baby, an airy pancake that's baked till it's light and smooth, then adorned with a spritz of lemon, whipped butter, and a delicate dusting of confectioner's sugar.
Learn about the origin of the pancake when you check out the OPH's pancake history page!
Get Brunching
From apple cinnamon pancakes to a towering deli sandwich, brunch is truly the best of both worlds. Grab some friends and put all three of these fantastic brunch locales on your weekend bucket list!